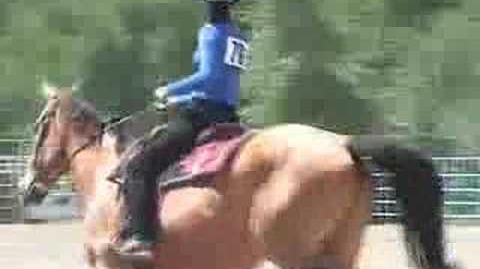 So much fun!
How to all to prepere to show a horse
Edit
1Decide what you will enter. There are lots of events to choose from, but don't enter all of them, it will be too hard for you and your horse.  
2Get the paperwork ready. You will need your horse's health records, Coggins test, and all the trailering paperwork. Also, you will need the event's entry fee(s). 
3Prepare your horse. Work on the skills for each event, bulking on work over time. A good training schedule for a junior jumper would be the following. Notice the pattern of adding on work.

Week #1: 1 & 2 foot jumps, walk, trot, and canter. 
Week #2: 2 & 3 foot jumps, trot, canter, 2 point position. 
Week #3: 3 & 4 foot jumps, trot, canter, 2 point position, lead changes, work with different types of obstacles. 
Week #4: 3 & 4 foot jumps, repeat everything. 
Week #5: 4H Show. 
4Clean your tack. 
5Wash your horse or pony down really good! Make sure you wash all of their socks and any markings on their face or body. If your horse has white on them in is a good idea to wash the horse with a whitening shampoo such as "White and Brite"!Make sure you pamper and reward your pony. It also might be a good idea to put liniment on your horse the night before the show to relax them and their muscles for the next day. Rub the liniment really good on their back where the saddle goes and all down by their legs!! 
6Go to the show when your horse is ready. Good Luck
Showable breeds
Edit
Daliboz, see Azerbaijan horse
Dole Gudbrandsdal, also called Dole,
or Dølahest
Don, see Russian Don
Draft Trotter, also called Light Dole, Dole Trotter, see Coldblood trotter
East Friesian horse, see Ostfriesen and Alt-Oldenburger
Faroese or Faroe horse, see Faroe ponyin pony section
Finnhorse, or Finnish Horse
Fleuve, see Fouta
Fjord horse also called Norwegian Fjord Horse
Fouta or Foutanké
Friesian cross (includes Friesian Sport Horses)
Vyatka, see pony section
Waler horse, also known asWaler or Australian
Waler
Warmblood, see "Types of horse" below, or
individual warmblood breed articles
Welsh Cob (Section D), seeWelsh pony
Württemberger or Württemberg
Žemaitukas, also known asZemaituka, Zhumd,
Zhemaichu, or Zhmudk, seePony section.
Main article: 
Pony
Ponies are usually classified as members of Equus caballus that mature at less than 14.2 hands. However, some pony breeds may occasionally have individuals who mature over 14.2 but retain all other breed characteristics. There are also some breeds that now frequently mature over 14.2 hands due to modern nutrition and management, yet retain the historic classification "pony." For the purposes of this list, if a breed registry classifies the breed as a "pony," it is listed here as such, even if some individuals have horse characteristics.
(Because of this designation by the preference of a given breed registry, most miniature horse breeds are listed as "horses," not ponies)
American Shetland, see Shetland pony
Anadolu pony also called Anadolu Ati
Ariegeois Pony see Mérens horse in horse section
Assateague Pony, see Chincoteague Pony
Asturian pony, see Asturcon in horse section
Basque Pony, see Pottok
Basuto pony, also spelled Basotho pony
Bhutia Pony, also Bhotia, Bhote ghoda, Bhutan, Bhutani, Bhutua see Indian Country Bred
British Riding Pony, see Riding Pony in "types of horse" section
Merens Pony, see Ariegeois pony
Miniature horse, see horse section
Northlands Pony, see Nordlandshest in the horse section
Ob pony also called Priob pony

Riding Pony, see "types of
horses" section
Sardinian Pony, see Sardinian horse
Skogsruss, see Gotland Pony
Spiti Pony, see Indian Country Bred

Virginia highlander, see horse section
Welsh mountain pony (Section A),see
Welsh Pony
Welsh pony (Section B), see Welsh Pony
Welsh pony of cob type (Section C),
see Welsh Pony
Yakut Pony, see Yakutian horse
Yonaguni, see horse section
Žemaitukas, also known asZemaituka,
Zhumd, Zhemaichu, or Zhmudka